Last Updated on October 26, 2022 by tabraiz579
With gas and energy prices rising, it's no wonder people are fretting about how to keep themselves and their homes toasty. But don't worry: Millercare has prepared seven tips for staying warm this winter.
We will tell you what to wear on your feet, how a balanced diet can regulate your temperature and what making the most of the sunshine can do for you. If you want to know how to stay warm in the winter, keep reading!
Wear warm footwear
Did you know that keeping your feet warm in the winter can ward off sickness? No, really! A common belief amongst foot specialists is that having icy-cold feet can weaken your immune system and wreak havoc with other health conditions, like diabetes.
To ward this off, you must get your hands on some warm slippers. At Millercare, we're proud to house a range of Cosy Feet slippers for both men and women.
Lined with a fur, cushioned insole and equipped with easy access velcro straps, these shoes might be easy to remove, but they're so warm you won't want to take them off!
Stay warm this winter by investing in a pair of high-quality slippers perfect for lounging around the house.
Eat a balanced diet
Food gives the body enough energy to perform vital functions, such as breathing, digestion and temperature regulation. The process of 'thermogenesis' happens when you eat food that takes longer to digest and raises your body temperature.
This winter, try incorporating some of these foods into your daily meals. Eating complex snacks like bananas, dark chocolate, and legumes can take longer to digest.
For your main course, try ingesting protein-rich foods like meat, eggs and fish. The thermic effect of this food is also excellent for boosting your metabolism! Knowing how to keep warm this winter may just be a case of altering your diet.
Keep moving
Staying warm at home is possible if you boost your circulation: this means getting up and moving!
By no means must you own a treadmill or exercise machine to do this. If you're wondering what to do to keep warm this winter, a little light exercise will set you on the right path.
Every hour, make sure you get up and have a little walk around. Keep warm this winter by getting active indoors, and do some household chores you have been putting off! You might be surprised how tiring unloading the washing machine can be.
If you have a physical condition that causes limited mobility, increase the amount of exercise you do incrementally. Building your resilience can be just as vital to staying warm this winter.
Make your bed warm!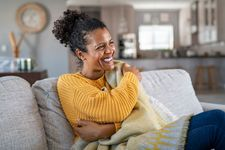 One of our cosiest ideas for staying warm this winter involves kitting out your bed. If you sleep in a cold environment, your body will become restless and uncomfortable. Losing sleep can also affect how well your body regulates temperature the following day.
So, if you want to know how to keep warm this winter without heating, we have two main tips: blankets and hot water bottles! As well as a heavy-tog duvet, pile some thick blankets on top. Then, boil the kettle and snuggle into bed with a fluffy hot water bottle.
Catch the sun when it's out!
It's not always doom and gloom during the winter. The sun does come out, but air pressure and wind will lower temperatures. That's why, on those days when the sun shines, it's crucial to let it into your home.
Open the curtains or blinds of any south-facing windows and let the sun soak your rooms. During the nighttime, our tips to stay warm in the winter involve shutting your curtains to insulate your rooms.