Last Updated on July 19, 2023 by Umer Malik
It's incredible to think that 93% of Americans in work have side gigs to make extra money in 2022. This is based on research from Insuranks.com. If this is true, then opportunities will be abundant out there for a side gig or two.
The big question is, out of so many potential side-earning jobs, which ones will suit you best? If you don't do enough research, you might end up getting paid much lower than the odds for the type of work you're doing.
To help you put things into context, we've put together 8 side gigs that are totally worth checking out! Read on to learn about side gigs at the higher quality end of the spectrum.
1. Dog Walking and Pet Sitting
Go-to and very viable side gigs for many are dog walking and pet sitting. The demand is often high for these sorts of jobs no matter what the general economic outlook is like.
One of the great things about these side gig types is you need little or no experience in most cases. Of course, it may help that you have an affinity towards and confidence in being around animals.
If you enjoy getting out and about instead of sitting in front of a screen all day then dog walking could be perfect for you. You might even have the chance to get some of your exercise goals in while you earn money!
An easy way to advertise your availability is to advertise yourself on local notice boards. We're talking about notice boards in local shops and other similar businesses in your area. Social media and newspaper advertisements can work well too.
Keep in mind, these types of side gigs won't pay out large sums of money for your efforts. However, you may gain other therapeutic benefits from doing such work.
2. Ride-Sharing
You can use a ride-share app to make a decent amount of extra money when you're not working your main job. Plus, there are plenty of ways you can increase your income even more so when doing this kind of side hustle (hustles on a hustle).
For instance, you can add a tip box and tip sign to your vehicle. You can also add a drink and snack selection at the back of your car for anyone thirsty or hungry on the move to make a little extra money. Plus, you could add other useful products into the mix such as umbrellas and rain ponchos for sale in the event there is wet weather.
3. Sell Your Art Online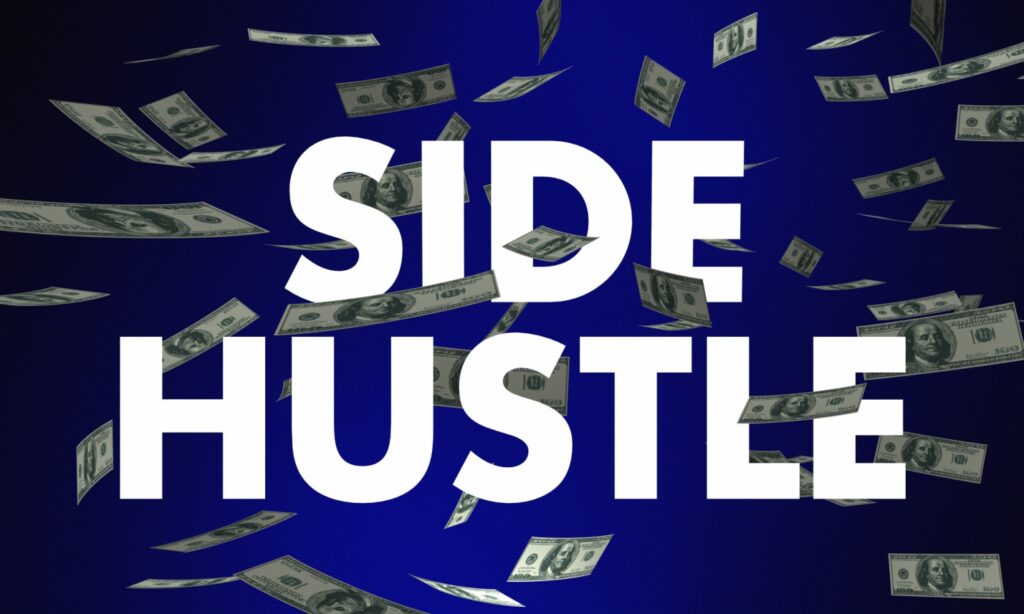 There are plenty of online options these days to sell your art. Etsy is one of the major places that people gravitate toward doing this.
Your art could be paintings that you sell as individual pieces, or you might want to make specific pieces available in large amounts by offering them in printed canvas form.
You can also consider selling photos printed onto canvases, or to stock image libraries. Just search online for various art-selling platforms and you'll see an abundance of options.
4. Get Involved With Free Sample Programs
You might not make any money when it comes to partaking in free sample programs, but you could save money. All you have to do is sign up and then review the free samples that you receive.
The way you can save money is that you may end up getting samples of products that you then do not have to buy for your everyday routine. For instance, you might sample a hair wax, which saves you from having to buy your own. When you keep doing this, savings can build up over time making it a worthwhile side gig for free stuff in your free time.
5. Teach English Online
For native English speakers, teaching English online can provide you with significant extra income. Even non-native English speakers can side hustle with this sort of work; as long as their English is adequate.
It pays to do a little research about different schools and what they offer at an hourly rate. Beware that some online schools will pay very little for the same type of workloads that others that pay more fairly offer.
6. Amazon Affiliate Marketing
if you have a website or prominent social media platform, you can sign up to be an Amazon affiliate pretty easily. The way it works is you get a special link from Amazon to a product or service and if someone uses that link to purchase something on Amazon you get a commission.
One of the best ways to do this is to develop a niche website. For example, you could have a site all about cat collars, which you write blog posts about. If you gain traffic you might gain commission through amazon with the links you put into your blog posts.
7. Sell Stuff
An easy way to start earning extra money is by selling stuff that clutters up your home. You could do this online or with a more traditional garage sale.
You can also look into sourcing products online and starting your own e-commerce store. Dropshipping is one way of going about selling online without having to hold any stock ever! People just order the items they want to buy and then the distributor you deal with sends it directly to the customer.
8. Become a Virtual Assistant
A virtual assistant (VA) is someone who often helps online businesses with some of the admin-focused tasks they need to do. It might be the case that the workload for a startup business owner is becoming too much, and they need you to relieve aspects of it.
There are other situations where large companies require multiple virtual assistants to carry out some of their online operations. Just search for virtual assistant jobs online to see what's on offer.
There Are Plenty of Side Gigs to Go Around
It might seem hopeless at first when looking for extra work to bolster your income. However, there are plenty of side gigs to check out in all sorts of industries. These can be online or real-world side-guides and the skill levels demanded vary a lot.
For more educational posts like this, head to our home page by clicking on this website's logo.
Apart from this if you are interested to know about Technology Week Blog US 2022 then visit our Technology Category.