Last Updated on March 13, 2023 by admin
Introduction
It is considered that Brand is the most robust POS in the ARAM. He is a strong character who can cause destruction on a very large scale. He is a powerful support mage. The brand is considered the strongest duelist in the game. He can easily stun his enemies. He is a strong, fascinating, and powerful champion in the league of leaders. He also has supernatural and mystical powers. Horrible power is the widespread ability of the Brand ARAM. He uses conflagration (E), sear (Q), and pillar of flame (W) to destroy his enemies. He also uses pyroclastic (R) for destruction on the enemy side.
Brand ARAM Spells
Flash
He is a strong character, but he depends on his teammates in tricky conditions. Flash is one of the spells of Brand ARAM. Except for Sear (W), Brand doesn't have a lot of exit options as a champion and is forced to depend on his companions to rescue him from sticky situations. Brand players should choose Flash as a part of the magic spells because removing Brand's damage can significantly reduce the team's ability to deal damage. Because Brand's skills take so long to cast, players will typically prefer to employ Flash defensively. Pyroclasm (R) being off cooldown is the only circumstance in which I can envision people successfully using Flash to enter a team fight. If not, approaching the conflict on foot is perhaps your best action.
Heal
Heal is one of the spells of Brand ARAM. The primary purpose of Heal is to provide excellent and sound health to the players in the game, along with a speed boost. It is the best defensive spell.
Ignite
Ignite is one of the spells of Brand ARAM. The primary purpose of igniting is to reduce the damage and destruction that occur during the game. It is also a solid defensive spell. Brand ARAM Rune Trees: It is the ability of Brand that he can use both sorcery runes and domination runes in the game. He knows how to play like another strong mage. During the game, the players can choose two rune trees. Runes Trees include:
Sorcery/Domination- Burst damage heavy.
Domination/Sorcery- Mana sustain.
The first one tends to be assertive and aggressive as compared to the second one.
Abilities of the Brand ARAM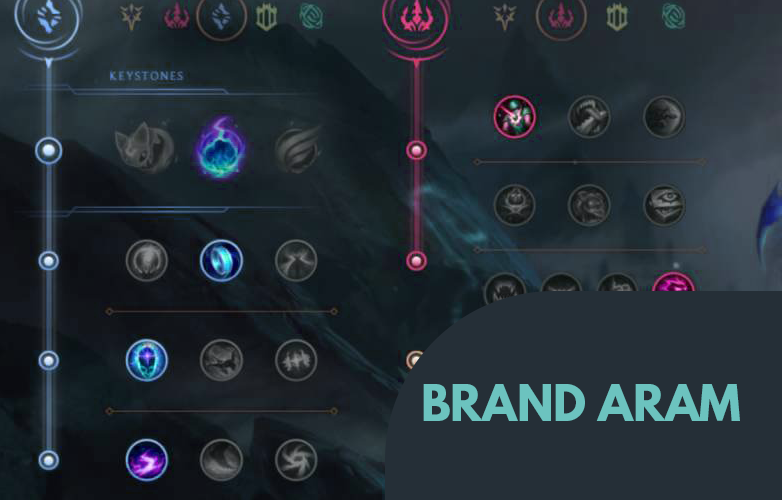 Brand ARAM has a lot of powerful abilities that make him different from the other characters of the league of legends. Some of the abilities are mentioned: Whenever Brand gets injured during the game, his teammates support him by fighting with the enemies in the starting row. During this time, he relaxes so that his wounds may heal. This can heal his wounds and injuries caused by opponents during this time. He also gains bonus AD during this time. It is a bonus for healing the damage caused by the opponents. It is also known as an attack damage bonus. Whenever. Brand ARAM exceeds the upper level. He also gains a bonus of 7.145%. This bonus is also known as the health bonus. It is rewarded at every level for maintaining the health of Brand ARAM.
Power up abilities of Brand ARAM
This includes W, E, and Q.
RUNES
This includes:
Cheap shot
Dark harvest
Eyeball collection
Ultimate hunter
Transcendence
Menaflow
Brand Build order
Build order of Brand ARAM includes:
Luden's echo
Rod of ages
Ryall's crystal
What are the best ways of winning ARAM games?
Coordination is the main rule of winning in any game. If the coordination among the players of a game is perfect, then the ratio of winning is 100%. The same rule applies to ARAM games. The success rate will automatically increase if there is coordination among the players. The initiator of the game must be a powerful character. It develops a good impact on the overall game. In ARAM games, Leona is the strongest player. Another strategy is that if you play with proper teamwork, the victory is yours in ARAM games. These are the best ways of winning in ARAM games.
Basic tips
Basic tips for playing this ARAM include:
Sear (Q)
It provides a +55% AP. It can cure every kind of damage.
Pillar of flame (W)
It provides +60% AP. It is a bit tricky. You can also stun opponents at this level.
It provides a +45% AP. It is the most accessible level for damaging enemies.
Pyroclasm (R)
It provides a +25% AP. It is also the most accessible level for defeating opponents.
FAQs
What are the power-up abilities of Brand ARAM?
This includes W, E, and Q.
Mention runes of Brand ARAM?
Cheap shotDark harvest, Eyeball collection, Ultimate hunter, Transcendence, and Menaflow.
Apart from this, if you are interested to know about Morgana Aram then visit our gaming category.