Last Updated on March 13, 2023 by admin
Intro:
One of many professions in sales is that of an automobile salesperson. Automotive salespeople sell new and used cars in retail settings such as car lots or storefronts. An automobile dealer may also be known as a motor vehicle salesperson or salesman.
A car salesman is someone who works for a dealership or a private owner as a salesperson. The primary goal of a car salesman is to convince people to buy vehicles from him to get a commission from those sales. Because dealerships have fixed costs associated with personnel and facilities, most are run very leanly with few employees on hand to minimize overhead., Car salespersons work on commission, earning money only if they sell vehicles. To make more money off each (and avoid incentivizing haggling), a car salesman will try to convince a customer it is worth his time and money to buy a car from the dealership instead of buying it somewhere else.
People's trust in salesman:
When buying an automobile, people rely on car salespeople to guide them in the right direction by providing all necessary knowledge about their product to make informed decisions that they will not regret later. It's especially true when deciding between different brands and models since there are so many to choose from these days, which can become overwhelming quickly.
Responsibilities of a car salesman
Car salespeople have a high degree of social responsibility within our society because they are the driving force behind the economy of America. People also need cars to get from one place to another, so being a car salesperson can help many people afford a car that will facilitate this type of movement throughout society, allowing access to all, including work and home.
Car salespeople are also responsible for notifying their customers of anything new or exciting happening within their dealership, significantly if it correlates with their needs, wants, desires, etc. This way, people can make informed decisions about what they want and do not want since having too many choices without knowing every benefit and drawback may only lead to frustration and dissatisfaction. Car salespeople work hard to be happy and satisfied with their purchase rather than overwhelmed by it, causing them to feel bad because they spent money they did not want to spend.
Car salespeople also have a lot of responsibility because they need to work in all weather conditions and understand that this is an essential part of their job since it comes with the territory. They need to know how cars handle different types of roads, which ones are better for specific vehicles, and how different road surfaces can affect other car parts, such as brakes. In addition, they must adequately clear the snow from their dealership's parking lots so customers do not become stranded after having purchased a vehicle from them.
Car salespeople are responsible in society because they provide a service that people rely on when making one of their most significant purchases in life, something they need to make their lives easier and better. Customers need the help of car salespeople when trying to find the best vehicle for them since there can be so many choices out there for people who do not know much about cars or brands/models available. Car salespeople work hard to make sure customers understand what they are getting into regarding how it will affect their everyday lives moving forward.
Car salespeople represent many different brands and models that can often become confusing even to somebody who has been in the business before. They need to know the benefits of each brand and model to relay this information to their customers to get them interested in purchasing through their dealership.
Factors affecting the salespeople's roles
The economy dramatically affects car salespeople's roles in society. When times are tough, people tend not to shop around as much or at all while trying to find the best deal on an automobile since they try to avoid taking out more debt than necessary, especially during these times. Car salespeople are the ones who need to help these customers find a good deal on an automobile that will not put them in debt they cannot handle, especially when times are tough.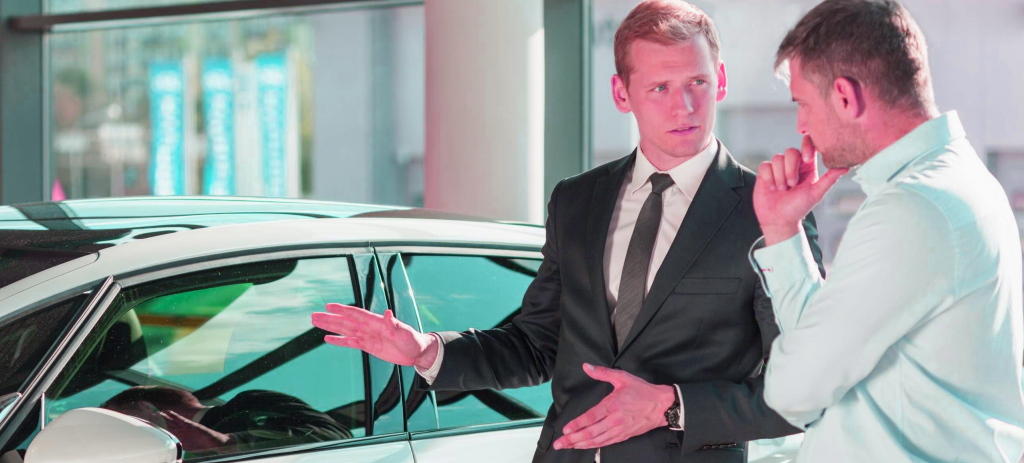 Work timing:
The number of hours a car salesman works in a week is about 47. In addition to their regular duties, they also take lunch breaks, travel time, and other breaks. They may also be required to work on weekends or evenings.
Earning of a car salesperson:
The good thing is that they make a massive amount which means working as a car salesman can be a very lucrative career if you are successful. However, the job is not easy, and those who fail to produce may find themselves without a job. In most dealerships, the salesmen are paid on commission, so their earnings can vary high. New car sales assistants typically make less than $40k per year, while used vehicle salesmen often take home $50 and $100k. Dealership employees paid by commission often earn less than those paid hourly or receive benefits like health insurance. Much of their earnings depend on commission which means how much they sell.
Summary:
Car salespeople help people when they are making one of their most significant purchases in life. They help their customers find the best vehicle since there can be many choices for people who do not know much about cars or brands/models available. The salesman has high earnings, which depend upon the commission.
FAQS
Which kind of person is a car salesman?
Car salesmen are businessmen who simply guide people to buy a good car. They also tend to be artistic, meaning they are creative, original and work well in a setting that allows self-expression.
What is the required education for a car salesman?
There is no specification in education, but a car salesman must know about the selling process. Most employers require at least a High School Diploma, and some prefer college experience.
What are the techniques by which car salesmen attract people?
By showing the material of the device
By showing independence in researching buyers.
By turning your dealership in an attractive way.