Last Updated on June 16, 2023 by Umer Malik
Marketing is not only about crazy advertisements and creative slogans. If you are studying marketing at the university, you probably have understood that marketing is about people, their needs, and desires. It consists of various components that include analytics, databases, copywriting, psychology, and many more.
As with any profession, you will always have a way to grow. Marketing is about trends, so be sure that you keep on the pulse of technologies and recent research. Still, this will require you to set some time for additional self-education. To be more productive at college, you can ask for marketing homework help. When you know that you can always ask an expert to assist you in complex assignments, you get more understanding of the subject and more strength to dive into the pool of marketing knowledge.
You have all possibilities to use university time to favor your future marketing career. And here we will tell you how.
6 Tips to Study Marketing at University
Learn to communicate
If you think that learning at university is about reading textbooks and getting A's for every subject, you are wrong. Universities and colleges are the most significant places to build relationships with other students, learn to communicate with classmates and professors effectively, and take on the role of a great team player. Your future profession in marketing will very much depend on how you build connections and relationships, which means you need to pay attention to your interpersonal, leadership, and communication skills.
Besides, your marketing course includes an extensive list of team projects, which is excellent training for being a valuable team member. Marketing managers typically work in a team, so don't waste your time and find out how to make work with others productive.
Deepen into psychology
During the course, you will probably learn the basics of consumer psychology and how people decide to buy something. But in fact, you will need to dig deeper to understand more about people. Psychological research can dramatically improve the effectiveness of marketing campaigns. What triggers the prospective customer to buy something? How to influence human desires? All answers and more you can get from the psychology of human behavior.
Understanding how you can influence other people may help you better communicate with classmates, prospective customers, managers, and the audience.
Moreover, you can learn about neuroscience, where marketing meets neurobiology. It's a perspective branch of marketing you should keep up with.
Gather case studies
Your marketing teacher will give a lot of examples of case studies. With its help, you can learn more about marketing and managerial processes, problems, and their solutions inside a real company. Consider some time to analyze case studies and mention how businesses get over complicated situations. It will help you get over problems faster in your future workplace.
During the marketing course, you will be asked to create several case studies by yourself. Consider every effort to understand all peculiarities of creating a case study.
Case studies are created not only for educational purposes. Marketing managers use them as a powerful instrument to generate sales. It's a great way to show prospective clients how the business is ready to solve their problems and satisfy their needs. With proper images, videos, and numbers, marketing managers can directly influence the target audience.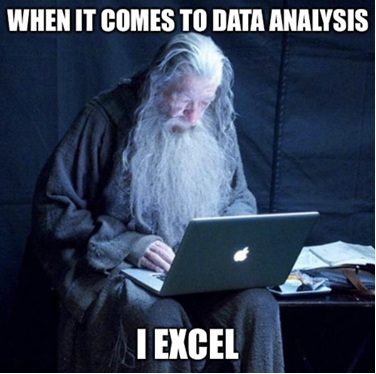 Let data analysis be your friend
Marketing is also about numbers. Marketing managers collect data to understand whether the marketing campaign is successful, determine the outcome of advertising, and find the most effective promotions to meet the budget. Moreover, statistics and various types of research help marketing managers see trends, analyze competitors, and make thoughtful decisions.
For example, according to Statista, smartphone users generated more than 55% of website traffic worldwide in 2022. What does it mean? It means that many users use their mobile devices to search for information and order goods and services. For marketing, it will mean that the business should pay attention to the mobile version of the website, create applications, and improve business presence over the internet.
To be successful in marketing, you need to learn how to collect data, create databases, develop measures, and analyze them. A good marketing analysis involves performance evaluation, preparing studies, making forecasts, offering recommendations, and writing reports.
Try out copywriting
Do you like to write? If numbers and analytics are not your favorite pass-time, you can turn to marketing copywriting. Creating copies that will influence the readers is one of the powerful marketing tools. Slogans, website content, texts for advertising, scenarios for video content, and infographics are all about marketing writing.
You can try out a copywriting course. For example, you can find a great list of free and paid copywriting courses on Coursera and other online courses. Read copywriting-related blogs, books, and articles. Moreover, you can try to create your own blog and write various articles by yourself. Even an Instagram blog is a great way to boost your copywriting skills.
Learn more about digital marketing
Nowadays, we use technology every day. Digital marketing is about promoting services and products through offline and online technologies. It's all about social media, email newsletters, search engine optimization (SEO), video advertising, shows, collaboration with influencers, and much more. Even push notifications you regularly receive on your smartphone from applications are also part of digital marketing.
Find out more about digital marketing and try to point it out in your everyday life. For example, a digital product may be hidden in a digital box on the street or built into your freezer. And native promotion may appear as a brief mention of the brand in a new video on your favorite YouTube channel.
Wrapping Up
Today, people are surrounded by advertisements everywhere, and the human mind develops resistance to most big boards and annoying ads. We are sure that marketing will be aimed at creating new ways to interact with prospective clients. That's why you need to keep up with trends and psychology to find the path to people's hearts and become a great marketing specialist. Follow the tips in this article to be great!
Apart from that if you want to know about Tips to follow before deciding on which career to choose then please visit our Business page