Last Updated on October 13, 2022 by
Perhaps some of your coworkers have done internet training on it, or perhaps you've just encountered the word used so frequently that you think like you'll never truly comprehend it in a concrete way. A very straightforward definition of design thinking is a human-centered method of resolving intellectual challenges. In recent years, it has generated a lot of buzz online and elsewhere. Although the topic of design thinking has recently become more popular, the idea itself has existed for a number of years now. Let's get into deep about exactly what is Design Thinking!
What is Design Thinking?
Design thinking means is a strategy used for both practical and imaginative problem-solving. Although it has roots in many different disciplines, including business, engineering, and architecture, it is largely influenced by the techniques and procedures used by designers (thus the name). It's not necessary to only use design thinking in the design industry; it can be used in any profession.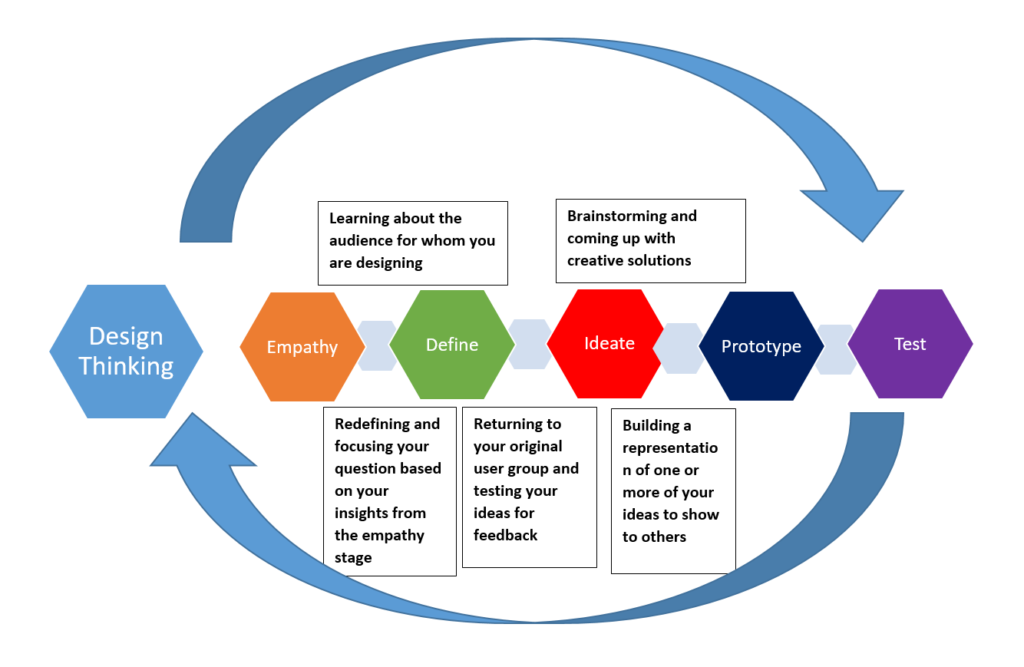 It aids teams in striking a delicate balance between what the target users will understand, what can be accomplished technologically, and what will be profitable for a firm to pursue.
In order to improve their offerings in terms of goods, services, and internal procedures, firms are advised to concentrate on the people for whom they are creating. This is how design thinking has also been described.
What exactly is the Design Thinking procedure?
The Design Thinking procedure is continuous and very user-focused. Let's first take a closer look at the approach while keeping in mind Design Thinking's four guiding principles.
The Design Thinking Method's First Four Rules
Human Rule
The human rule states that all design work is social in nature, regardless of context, and that any social invention will return us to the "person-centric point of view."
Ambiguity Rule
The ambiguity rule states that since ambiguity cannot be eliminated or oversimplified, it must be accepted. In order to be able to perceive things differently, you must experiment at the edge of your knowledge and skill.
Redesigning Rule
Redesigning is a requirement for all forms of design. Basic needs of humans never change, despite how quickly technology and societal conditions can shift. Fundamentally, all we do is rethink how we meet these demands.
Tangilibilty Rule
The rule of tangibility states that designers are better able to communicate ideas by turning them into prototypes.
The Design Thinking Process in Five Phases
The Design Thinking method can be divided into five stages or processes based on these four guiding ideas.
Stage 1: Empathy
The crucial foundation for design thinking is empathy. Understanding the user's needs, wants, and goals takes up the majority of the first step of the process.
This entails paying attention to and interacting with others in order to comprehend their psychological and emotional states. The designer aims to discard their preconceptions and obtain accurate information about the user throughout this phase.
Phase 2: Clarify
Determining the problem is the focus of the second step of the Design Thinking process. You'll compile all of your observations from the empathize stage and begin to make meaning of them. Are your users encountering any challenges or obstacles? Do you notice any patterns? How can your team resolve a major user issue?
After you have completed the define phase, you will have a specific problem definition. The important thing here is to describe the issue in a user-centered manner.
Third-stage brainstorming, which involves finding answers and ideas, begins after the problem is verbally expressed.
Phase 3: Ideate
It's time to begin developing viable solutions with a thorough grasp of your users and a precise problem statement in mind. It's important to note that the ideation stage is a judgment-free zone because this is the stage of the Design Thinking process when innovation takes place.
The goal is for designers to develop as many ideas and perspectives as they can. Designers can utilise diversity of ideation techniques, from mind mapping and brainstorming to bodystorming (roleplay scenarios), and provocation, an extreme lateral-thinking strategy that encourages the designer to question preconceived notions and consider fresh possibilities.
Towards the end of the ideation phase, you'll narrow it down to a few ideas with which to move forward.
Phase 4: Prototype
Experimentation and translating concepts into concrete objects are the main focuses of the fourth stage in the Design Thinking process. A prototype is essentially a simplified model that incorporates the potential fixes found in the prior stages. This step is crucial for testing each solution and identifying any limitations and problems.
The proposed answers may be approved, enhanced, altered, or discarded during the prototype stage depending on their performance in prototype form.
Phase 5: Test
User testing follows prototyping, but it's crucial to remember that this rarely marks the conclusion of the Design Thinking process. In practise, the findings from the testing stage will frequently force you to revisit a prior step and provide you the new perspective you need to rephrase the initial statement of the problem or to come up with new ideas that you hadn't considered previously.
Designing thinking is very trendy in the market and very helpful for a growing organzination, and if you are wondering from where you can get a learn it then go for Seekho's Product management course. Additionally, you can look for other courses as well that will surely help your organisation to grow!
Apart from this, if you are interested to know about Choosing the Right Technology for Your Recruitment Business: 5 Simple Tips to Follow then visit our Technology category.