Acrylic paint is probably the most widely used paint for crafts and art projects. And for good reason, it is easy to use, you can get acrylic paint pretty much everywhere, most acrylic paints are non-toxic, and it is quite cheap too. But most newcomers to the world of arts and crafts don´t know how versatile acrylic paint is and how many different materials can be used. In this article you'll learn about some interesting acrylic painting ideas.
Acrylic paint can use directly on the canvas, paper, cardboard, wood, polymer clay, air-dry clay, stone, and plaster. It can also be used on materials like fabric, metal, glass, and plastic but the surfaces of these materials prepared first. And the paint has to be sealed afterward.
Different Acrylic Painting Ideas For Beginners: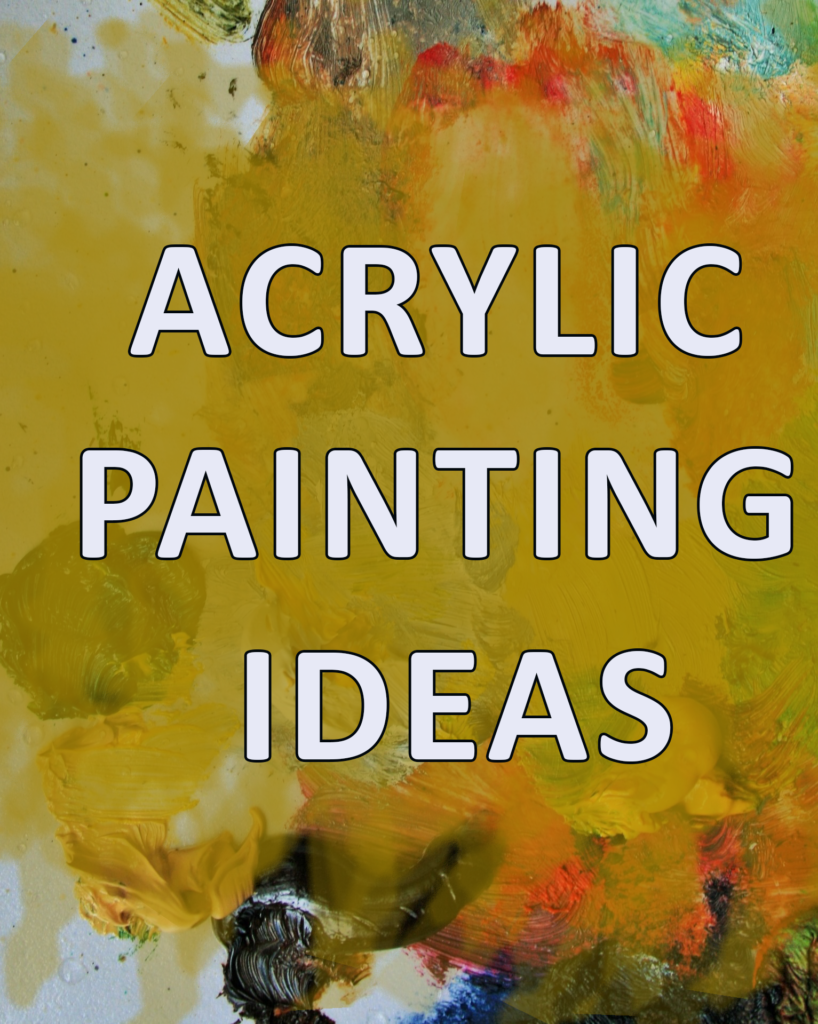 Flowers:
Flowers are a wonderful subject matter for the new acrylic painter. For one thing, they are a forgiving subject matter. It's easy to "get" that a painted object is a flower, even if it is not quite realistic. Plus, painting flowers can help you grow as a painter. Perhaps you'll start by making simple flower shapes; then, you might progress to mixing variations of color and creating faceted hues in your blossoms. Before you know it, you may be creating beautiful, realistic flower paintings.
Silhouettes:
Silhouettes, especially nature-inspired ones, can be an inspiring way to develop your acrylic painting skills. In the above painting, a beautiful multicolored gradient forms the backdrop of the piece, and then a dark silhouette of a tree takes up the foreground. While the agilely rendered painted tree has some quite complex shapes and loops, when you look at the trunk, you realize that all of those complicated shapes root from one fairly simple shape.
Still life:
It might seem like still life paintings are something best left to the master painters of the 18th century. But it's a style accessible to even beginners.
3-D Shapes:
If tackling real objects in a still life seems too lofty a goal, you can start by painting shapes. This easy painting idea can be a gateway to painting more involved still life compositions. This is a wonderful way to begin learning the language of shape and form and how to create it with different variations of color.
Clever lines:
How cool is this easy acrylic painting? The good news is that, as complex as it looks, even beginners can experiment with the same methods used to create this magnificent work of art. The secret is simple: painter's tape! Apply the tape all over your canvas in a geometric configuration, and then paint on top of it in abstract bursts of color, as shown. Once the paint dries, you can remove the tape, and the areas the tape covers will remain white, making for a striking, modern-looking painting.
Abstract:
The best way to get better at painting is by painting. Simple! That's true whether you explore realistic, painterly renditions of objects or you create abstract, non-representational art. Abstract art can be an easy way to just start painting and have fun. How do you do it? You simply put paint on paper and experiment. Pretend you're Jackson Pollock and fling paint at the canvas if you wish.
Abstract art is an easy way to get started with acrylic because it's a stress-free, experimental way of creating. Anything goes! Maybe you put a line of paint on the canvas and smear it with your finger or a dry brush to create a fascinating gradient. Your first try might not look as refined as the dreamy landscape above, but you'll have fun.

Simple Acrylic Painting Ideas on Canvas: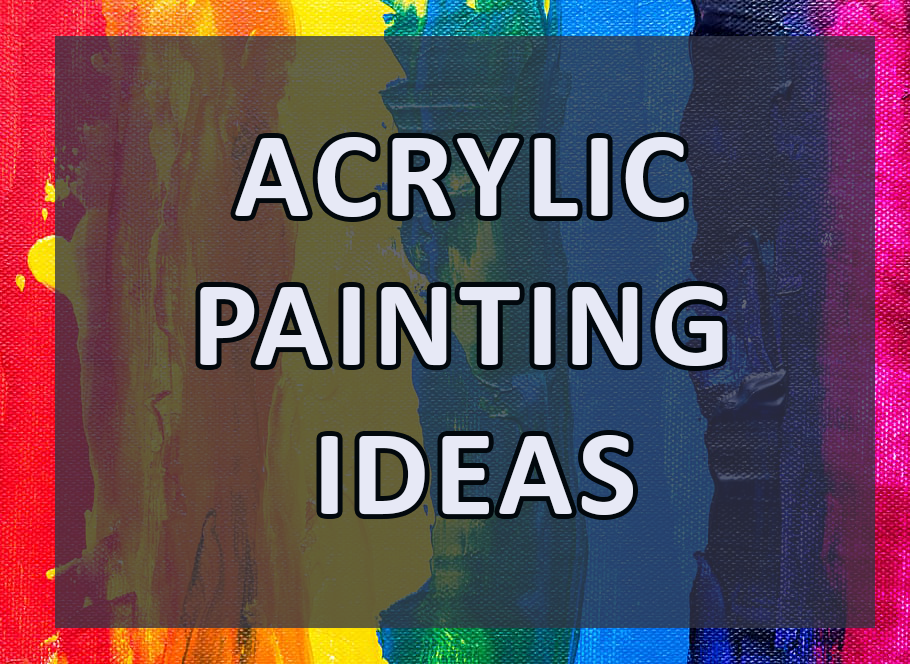 Colorful Landscape:
One of the simplest acrylic painting ideas on canvas for beginners is painting colorful landscapes or beautiful trees using different acrylic paints. Painting vivid images of nature doesn't require any drawing skills. You just require a palette knife to break up a monotonous landscape with some texture and to add crisp highlights to a burning sunset.
Geometrical Designs:
Geometrical designs prove to be another amazing subject for canvas paintings. Using geometrical shapes in your acrylic painting can lead to eye-catching, dynamic imagery in your artwork. Placing geometrical shapes randomly against a colorful background enhances the beauty of the painting and acts as a visual treat for the eyes.
Beach Inspired Painting:
Anyone can do this! If you want to layer your canvas with blue tones of the sea to resemble flowing water, try beach-inspired painting. Using a smaller round brush, it is beautiful showcasing different kinds of items, lights, and natural beauty of beaches with acrylic colors.
Painted Roses:
Choose your favorite flower, like roses or lilies to painted on the canvas with acrylic paints. Adding metallic texture to the flower and incorporating details like leaves and stems will instantly turn into a glam art piece and gives a dynamic feel to your floral-themed home decor.
Mountain Landscape Painting:
If you want to create an engaging mountain landscape remember you need to plan the picture first, so that it's clear in your mind what the painting is about. You can create depth with the effective use of acrylic colors to create a beautiful atmosphere.
Conclusion:
Acrylic painting is a versatile, fun to use and very performant medium. A beginner starts to paint with a wet brush on a dry canvas, but there are so much to explore. Be curious, be creative and you will find your techniques and best acrylic painting ideas.
Apart from this if you are interested to know about Best Keratin Treatment At Home then visit our lifestyle category.
FAQs
Which is better acrylic or watercolor?
Both are great mediums, but acrylic paints are easier to use, and any mistakes can be easily fixed. Watercolors can be difficult to learn and any mistake you make is extremely difficult or impossible to fix. So, when it comes to watercolor vs acrylic for beginners, acrylics might be the better option.
Can I learn painting on my own?
Painting can be as simple as you want to make it. You will be able to find all this at your local art store. If you are an absolute beginner, it may be worth starting with a beginner package which includes most of the basic supplies you would need.