Last Updated on August 19, 2023 by asifa
The foreign residents in the UAE – both employers and workers can meet the UAE family sponsorship requirements for their families if they have a valid residency permit. An expatriate worker's occupation is no longer a prerequisite for being eligible to support his family's visas. The UAE government has amended a law that allowed only certain occupants to apply for family sponsorship in the UAE.
Now, regardless of the occupation, a foreign worker can sponsor his family and support their residency visas as long as he meets the "income requirements," which is a minimum wage requirement of AED 4,000 or AED 3,000 plus accommodation. Furthermore, if the family's father lives in the UAE and meets the requirements for sponsoring his children, the mother is not permitted to do so.
After entering the UAE, a resident sponsor has 60 days to apply for his dependents' residence visa and change their status from entry permit holder to residence visa holder. Except for adult males who are complete their education and sponsor parents, sponsor residents can have the same visa period as their sponsors. You can get in touch with Shuraa's business consultants to know more about the UAE family sponsorship rules.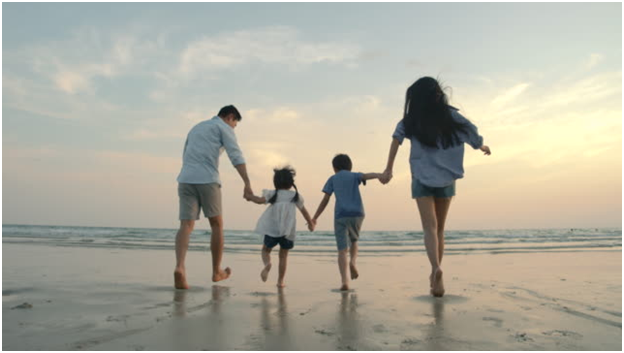 All you need to know about sponsoring your family
Men and women over the age of 18 must undergo and pass medical fitness tests at government-approved health centers for the UAE government to issue or renew a residency visa for their hassle-free stay in the country. Those who test positive for HIV or have tuberculosis will be deemed medically incompetent and will not be given a residency visa.
Residents with latent or inactive tuberculosis in the lungs are typically consider medically fit. They are granted a special one-year health fitness certificate for residence as per the care and follow-up activities by the Department of Preventive Medicine or an equivalent government health authority. Therefore, if you think you are infect with a contagious disease, it's better to check beforehand.
If an expatriate resident meets the General Directorate of Residency and Foreigners Affairs' sponsorship requirements, he can sponsor his wife and children for a residence visa (GDRFA).
To sponsor his wife, an expatriate resident must provide proof of an established marital relationship by sending an authenticated marriage certificate in Arabic or a certified translation into Arabic.
Sponsoring two wives
In special scenarios, a Muslim citizen may be permitt to sponsor his two wives if he follows certain GDRFA terms and conditions.
Sponsoring daughters
An expatriate resident's daughter or daughters may only be a sponsor if they are unmarried.
Sponsoring sons
Only up to the age of 18 will a citizen support his son or sons. If the son is studying in the UAE or abroad after the age of 18, he can be funded until the age of 21 if he can provide evidence of his studies. He must, however, reach the UAE at least once every six months to keep his residency visa valid. The residency visa is an issue every year and is renewable before the student completes his studies.
Sponsoring stepchildren
An expatriate resident may also sponsor his stepchildren, but only if he meets the GDRFA's requirements, which include a deposit for each child and a written no-objection certificate from the biological parent. Their residency permits are valid for one year and are renewable on an annual basis.
What are the benefits of family sponsorship?
Listing down a few benefits of the family sponsorship in the UAE:
1. You can live and work in the UAE
You can work and live in the UAE as having a residence visa approve by your husband or wife allows you to lead a well-settled life in the country. Not only will you legally stay in the UAE. But you will also have the allowance to work in a professional organization.
2. Hassle-free job onboardings
If you have a husband or wife sponsored visa and find work. Your employer just needs to apply to the Ministry of Labor for your labor approval. Most free zone employers require that you work under their sponsorship; however, this is not a requirement.
3. Easier to switch between companies
Since you don't have to worry about changing your residency visa. All you need to do if you want to move jobs is cancel one company's labor approval and apply for another. Your residency visa doesn't need to be revoke. It's faster than changing the residence visa that typically consumes a fair amount of time.
Validity and renewal of family sponsorship in Dubai
The tenure of a residency visa is determined by the type of sponsorship and the individual who is sponsoring. It can be purchase for one, two, or three years. The requirements for renewing a visa are similar to those for new visas. The family's residence permits are related to the sponsoring expatriate employee's residence permit.
If the visa of the sponsor party is revoke, the dependents' visas must also be revoked. The dependents have a 30-day grace period from the date their visa expires or is revoke to apply for a new residency permit. Therefore, if the employee fails to extend or cancel his dependents' visas. They're considered unauthorized residents, and the incident will be deemed a legal offense. You should connect with the legal advisors to avoid such issues in Emirates.
Read More: The Holderness Family's net worth and Youtube earnings
Documents involved in the family sponsorship procedure in Dubai
You can apply online or via a registered typing office In the UAE. Here's a list of documents you should have:
Husband, wife, and children's passports (both original and copies)
Passport size photographs of the spouse and children (as per the UAE's photo protocols)
For government employees, a salary certificate or an attested job contract is need
A medical clearance certificate is required for the spouse and children over the age of 18
The governing authority's attestation of legalized marriage certificate
Attested tenancy agreement
A copy of your spouse's employment certificate or a contract with the company
The most recent energy bill (electricity, water, etc.)
Connect with Shuraa
There are several benefits of family sponsorship in the UAE. However, it can become tiring for an ex-pat to understand the UAEfamily sponsorship rules all on his own. This is where Shuraa Business Setup steps in and vanishes all your worries. Be it the procedure, the paperwork, or anything else – you get end-to-end assistance from your team. The business experts at Shuraa are well versed with the UAEfamily sponsorship requirements and leave no stone unturned to provide the best consultancy services to our clients.
To get in touch with our experts, call us at +971 44081900 or send a WhatsApp message on +971 50 777 5554. For email assistance, you can write to us at [email protected].