Last Updated on August 19, 2023 by asifa
What's up, party people? How thrilled are you to hit a house party this summer, huh? Well, you can always dress up sassy and be a part of the madness. However, there's something more you can do to turn around all the eyeballs. Gear up your nail perfectly! Yes, you read it right. Designing your nails party-worthy can add a character to your overall appearance.
Moreover, there are multiple manicure designs for the party season that you can wear and never compromise on your glamour. But, in this piece, we will talk about the most party-friendly neon nail color ideas to try your hands-on. Blocks, French Tips, or Popsicles? Don't wait anymore. Know the five super-hot neon nail trends and copy them right now!
1. Neon Blue Aesthetics
When we searched for the trendiest party colors, the blue color just 'blue' us away. We heard enough about the buzz of the neon blue aesthetic and its drama on the nails. When it comes to neon blue party nails, you can create various patterns, and all will look equally stunning. For starters, you can do the neon blue line art. Paint your nails with a good nude base and do the neon blue waves manicure on it.
Besides this, you can also go for funky neon blue tips nails. Paint the crescent dimension with baby pink and pastel purple nail polish. It helps elevate the ensemble by elongating your fingers. Paint the remaining tip portion with neon blue. Going to a party with these nails, you will see people coming to you and calling you the slickest trendsetter.
2. Skittle Nails Vibe
Skittles never go out of style. You can rock your nails by painting each finger with a different shade. Add a never-dying charisma to the skittle tips manicure by applying the neon colors. To update the skittle tips look, coloring the French tips is one of the classiest ways. Pick pigmented neons to slap on solid lacquers or nude bases.
Summer popsicle is our favorite choice for skittle tips. The French tips in a minimal V-shape create the illusion of length, whereas the bright neon makes it perfect for Friday nights. Don't want to with V-shape, okay. Do half-and-half. These micro-French skittles just bring the ultimate rainbow neon effect out on your nails.
3. The Geometric Glamour
We have always remained fans of neon geometric glamour. You can see in the picture – they give away the major retro 70s vibe while grabbing the attention of all the ladies in the party room. There is one more stylish way of doing geometric nails with neon colors.
Dip your extra-long nails in a nude base coat. Leaving the crescent bottom of the fingernail nude, draw a 'Y' towards the tips with anyone cool and clashing neon paint out of orange, pink, or blue. Paint the two sides of the 'Y' shape with the two neon shades. The design looks super chic, sassy, and sophisticated.
4. Two-toned Mani
Single neon blue, neon rainbow, and neon trio – we talked about all the possibilities of neon manicure combinations. Wait, what about a neon duo then? Let's talk about that, too. Give your French tips a taste of neon yellow color and leave your ring finger empty.
Now pick an ever-contrasting color to yellow (preferably brilliant orange or pink) and paint your ring finger with it. Pull out a painting of a coconut tree on the ring finger with noir black, and your two-toned neon manicure is ready. You would agree, doing the two-toned mani with brightest and boldest neons is no less than a statement, don't you?
5. Hi, Summer!
Summers and Friday nights – the deadliest party combination ever! Then how about doing a summer vacay-inspired manicure right away? Paste your right hand with neon yellow while splashing the left-hand fingers with neon pink. Paint the tips of the right hand with neon green and the left hand with neon orange. Drawing a palm tree doodle with the neon green on the ring finger of the yellow-painted hand will just finish the summer party night look.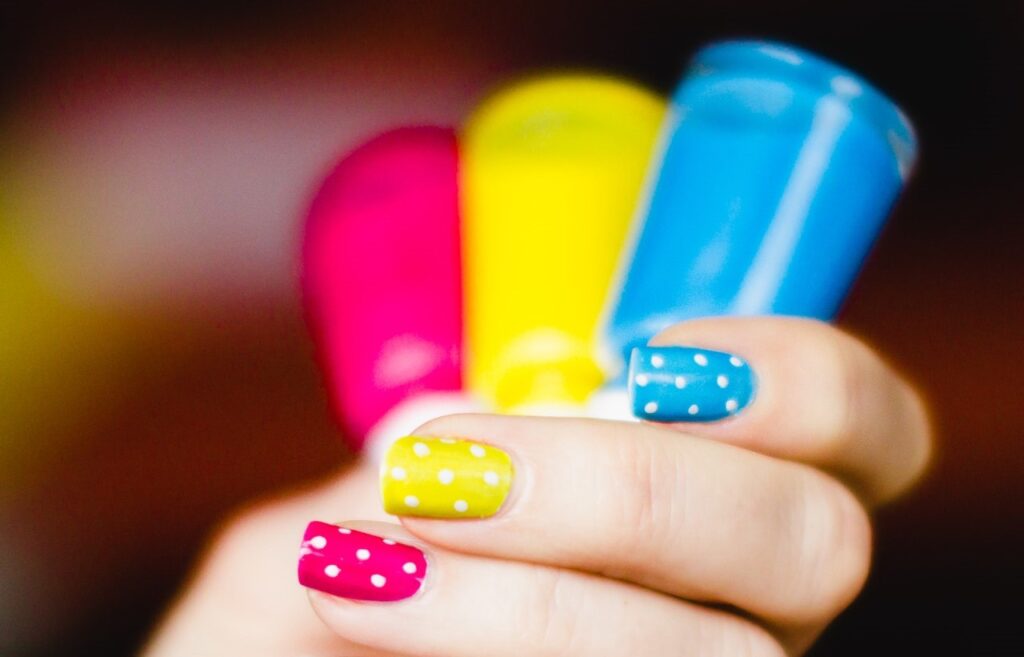 If you are already getting late for the party, go with this most straightforward neon manicure. Pick five neon shades: pink, blue, orange, green, and purple. Paint each finger of your hands with these distinct shades and put tiny white polka dots on these neon nails. When you paint the neon, remember, too much color is never boring!
Conclusion
There is no such thing as too much color or show-off when it is about nails. Moreover, you are going to a party so who cares. Wear any bold and brilliant neon nail color, bring any neon nail art design to life, and you are all set to hit the dance floor and jazz up the place, party, and people. The thought of neon paints on a dainty base tickles us from the core, and we can't wait to see you recreate them. Share your pictures super soon on Instagram with us!
Read More: Learn About Fashion Trends Trends Of The 70s